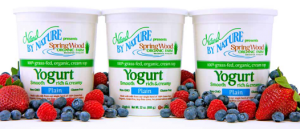 Natural Dairy Products Corporation is the producer of Natural By Nature organic, grass-fed, dairy products.
OUR MISSION
"To promote and support organic farming and the sustainable use of our natural resources. To produce foods that benefit consumers and farmers alike. To use the principles of grass based dairy production as a means to improve the quality of our products, maximize the health of our cows and protect our watersheds. To make a living for our families, based on these strongly held principles."
For a fresh, wholesome taste, try our unhomogenized organic milk in glass bottles and whipped cream.
ORGANIC – LOW TEMP PASTEURIZATION – GRASS-FED – FRESH MILK
Our dairy products are certified organic, kosher and Gluten Free. Our certificates are available by clicking the links above or the logos to the right.
SUSTAINABLE USE OF OUR NATURAL RESOURCES
We have partnered with a carton manufacturer who shares our values:
70% of our carton paperboard are made from renewable resources; trees from responsibly managed forest.
All paperboard comes from 100% U.S. facilities and all have certifications from the Sustainable Forest Initiative and the Forest Stewardship Council.
New forest growth exceeds timber removal where wood is sourced for our paperboard.
Our cartons are made with renewable energy. Over 50% of the energy used to make the paper in our cartons comes from Biomass.
Our supplier is working with the Carton Council to increase the availability of carton recycling in households throughout the U.S.
Cartons are recyclable for more than 30 million households.
Recycle Milk CartonsMany recycling centers will not recycle milk cartons. Please check these helpful weblinks to find a recycling center near you that will. If you aren"t able to locate a center nearby, please help put some pressure on your local recycling center.